Clarice Lyons-Davidson, MBA, CPSM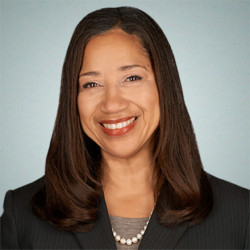 Chief Marketing Officer
INGENUITY Experience. With 25-plus years of experience in Marketing and Communications, Clarice serves as head of marketing for IEI to enhance the firm's visibility, role and relationships with new and existing client partners. She has also worked as the divisional head of marketing for a top-tier financial services firm. Professionally, she is a member of the Society for Marketing Professional Services where she earned the Certified Professional Services Marketer designation and the American Council of Engineering Companies. She is also a founding member of a Toastmasters International club.
Education. Clarice earned a bachelor's degree in Economics from Boston College and both an MBA and MLIS from Dominican University.
Involvement in Community. Clarice is a member of the Alpha Kappa Alpha Sorority whose ongoing mission includes service to all mankind, the NAACP, and her local church where she holds a leadership position and was honored as a Vision Keeper.